Traditional British Fruit Cake
05 December 2018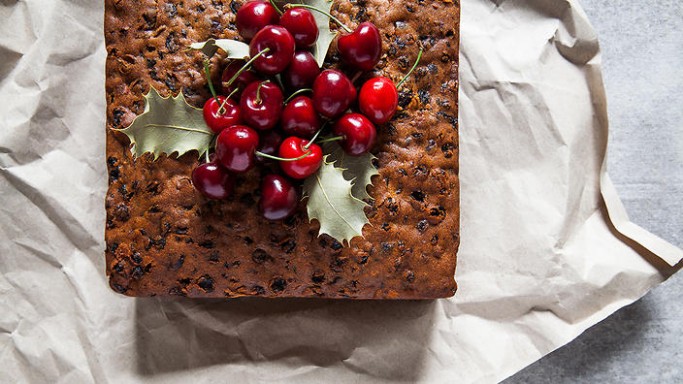 Ingredients:
450 g./1 lb.  mixed dried fruit
300 ml./10 fl. oz. black tea (cold, strong)
225 g./8 oz. all-purpose (or plain flour)
150 g./5 1/2 oz. butter (slightly softened)
150 g/5 1/2 oz. dark Muscovado sugar
4 medium-sized eggs
1 tablespoon dark treacle (cane molasses)
100 ml./3 f.l oz. Brandy Cardenal Mendoza
1/2 tsp. freshly ground nutmeg
2 tsp. lemon juice
1 tsp. baking powder
110 g./4 oz. ground almonds
225 g./8 oz. candied peel (chopped)
225 g./8 oz. glace cherries (halved)
Elaboration:
The day before place the dried fruits in a large bowl, add the tea and stir well. Cover and leave overnight. Preheat the oven to 325 F/170 C/Gas 3.
Line an 8-inch round cake tin with greaseproof paper or baking parchment. Place the butter and sugar into a large baking bowl. 
Using an electric hand whisk or fork, cream the butter into the sugar until light, smooth and creamy. Beat one egg into the creamed butter, then beat in a quarter of the flour. Repeat until all the eggs and flour are used up. Add the treacle, brandy or sherry, nutmeg, lemon juice to the cake mixture and stir gently using a spoon or spatula. Finally, stir in the baking powder.
Drain the dried fruits and add the ground almonds, glace cherries, and mixed peel. Stir well then add to the cake mixture stirring gently until all the fruits are incorporated into the mixture. Stir gently so as not to 'flatten' the cake mixture. 
Spoon the mixture into the prepared cake tin and gently level the surface. Cook in the preheated oven for 2 to 2 1/2 hours or until dark, golden brown.
You May Also Like
Straight from the bota