Tacos de camarones al Cardenal Mendoza
21 November 2017
When we think of "tacos" we automatically think of a Mexican pancake with meat. But this Mexican delicacy that you like so much can be prepared with practically any ingredient: stews, chicken, vegetables, fish ... and of course, shrimp.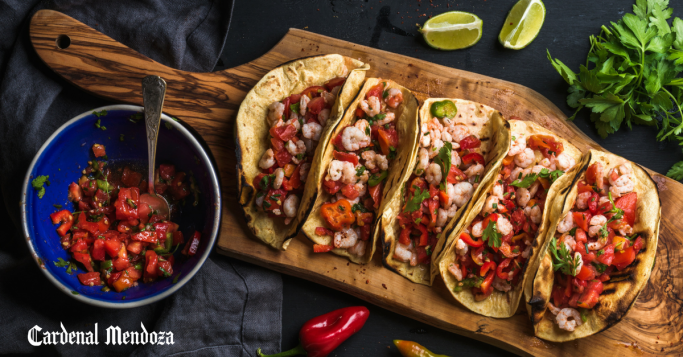 Ingredients:
1kg shrimp
1 o 2 red peppers
2 tablespoons of soy
2 teaspoons of seasoning as Maggi sauce/ Avecrem/ Bovri
The juice of two lemons
1/4  cup of Cardenal Mendoza
2 teaspoons chopped parsley
Wheat mexican tortillas
Elaboration:
Place in a bowl the prawns, seasoning, soy sauce and lemon juice. Allow to marinate in the refrigerator for an hour.
Meanwhile, chop the peppers and parsley. place together in a bowl and add lemon juice, salt and put aside. 
Now its time for the tacos or tortillas as they are called in Mexico, heat them in the oven or in a frypan for a few minutes.
In another pan with hot oil add the prawns and fry for 3 minutes. Next, add the Cardenal Mendoza brandy and allow it to evaporate.
Finally, heap the tacos with the ingredients filling them with the prawns, peppers and parsley. 
You May Also Like
Straight from the bota