Cerca del Fuego
26 November 2019
After extensively studying Cardenal Mendoza's history and flavour profile; I knew that I had to come up with something that would compliment all of the beautiful flavours in the prestigious brandy. I wanted something that people would crave at the end of a night with a cigar in hand; so I went for a digestif cocktail that is that perfect post-dinner serve. The cocktail's profile is smokey with hints of spice from the infusion and oban 14 mist, with lingering flavours of white grape and beautifully sweet sherry.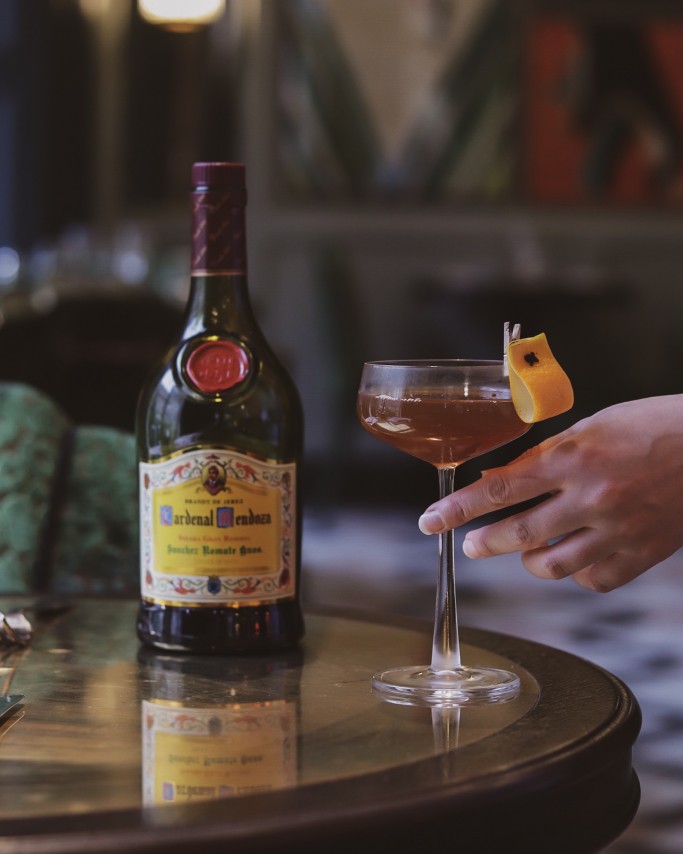 Ingredients:
45ml Cardenal Mendoza Brandy infused with toasted cloves, star anise and cinnamon smoke (char cinnamon sticks and add them to an air tight container when still smouldering)
10ml Madagascan Cola syrup (made from boiling Madagascan Cola drink until it becomes of light syrup consistency)
5 drops of chocolate bitters
Glass rinse with Belsazar rose vermouth
3 sprays Oban 14yr single malt whisky mist to coat the top layer of the cocktail.
To garnish: orange peel pierced with a burned clove, and peg to side of glass.
Elaboration:
Stir all ingredients with ice in a mixing glass except for the glass rinse and whisky mist. Serve straight into a chilled coupette glass.
See more Brandy cocktails