The Cardenal's Capp
21 January 2020
When I first tasted the brandy I knew I wanted to do a coffee-like drink. I love coffee with complex flavors. This is my take on a brandy coffee cappuccino. The drink has a spirit-forward flavor at first but as the foam integrates with the drink it becomes another drink entirely. The orange of the Angêlus mixes so well with the flavors and aromas of chocolate, raisins, and coffee. Muscovado coffee gum syrup adds a dark sweetness along with a silky mouthfeel. This cocktail has the C factor with the marriage of coffee liqueur, coffee syrup, the hint of cacao on the foam, and the amaro adds that hint of bittersweetness much like a good cola.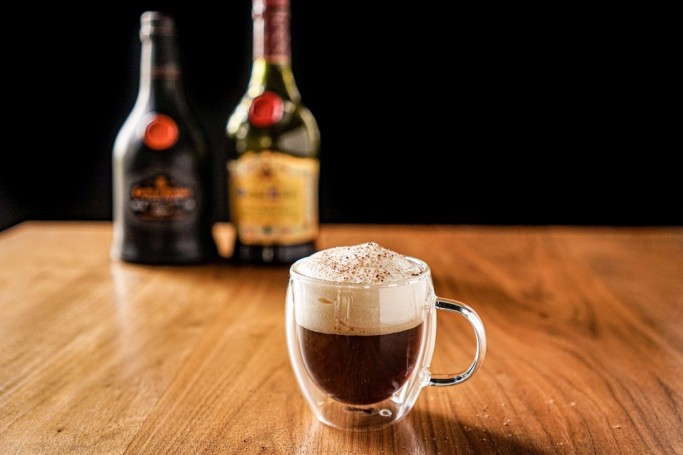 Ingredients:
1.5 oz Cardenal Mendoza Brandy de Jerez Clasico
.5 oz Noilly Prat sweet vermouth
.5 oz St George Spirits Nola coffee liqueur
.5 oz Amaro Montenegro
1 tsp Muscovado coffee gum syrup
1 dash Angostura bitters
1 dash Fee Brothers Black Walnut bitters
Top with Cardenal Mendoza Angêlus foam
Elaboration:
Combine everything but the foam in a mixing glass with ice. Stir till well chilled. Strain into a 5 oz double-walled borosilicate coffee mug. Then top with the Angêlus foam. Finally, dust the foam with cacao powder.
Ingredients for Angêlus Foam:
4 oz Angêlus
4 oz egg whites
2 oz fresh-squeezed orange juice
1 oz 1:1 simple syrup
Angêlus Foam Elaboration:
Combine everything in a cream whipper and give it a good shake. Use an N2O charger and give it another good shake. Use another N2O charger and then place it in the refrigerator overnight.
See more Brandy cocktails