Caramelized scallops with Cardenal Mendoza Onion soup
06 February 2017
Cinzia Cardascia is a true foodie in every sense of the word. She has kindly shared her magnificent recipe of caramelized scallops with Cardenal Mendoza onion soup with ginger, confit tomatoe and dill. She is from Italy and her originality in the kitchen will not leave you indifferent.
Ingredients  
(4 personas )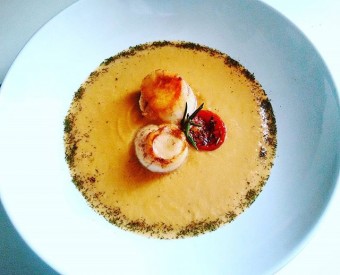 8 scallops
3 onions
1 potato
2 cm ginger root
1 - 2 cups Vegetable stock 
salt and pepper
olive oil
4 candied tomatoes
Dill fresh and ground
Sugar cane
Cardenal Mendoza brandy
Preparation
For the onion soup: in a saucepan add 3 tablespoons of olive oil & 2cm of chopped ginger and cook gently for a few minutes.  Add the onions and the sliced potatoes. Cover with enough vegetable stock and cook for 30 minutes.  Finally blend the soup into a cream, adding salt and pepper to taste. 
For the scallops: clean the scallops and remove the red part (add these to the vegetable soup to give it more flavor). Heat a pan with a tablespoon of olive oil. Sprinkle with cane sugar add the scallops to the pan cooking each one 30 seconds per side.
Add 1/2 cup of brandy Cardenal Mendoza and allow to cook for two minutes more. 
Serve the soup and add two scallops for each plate. Add the candied tomatoes, a few drops of olive oil, fresh dill and sprinkle the edges with a little powdered dill.
Thank you Cinzia Cardascia for teaching us how to cook this delicious recipe!
You May Also Like
Straight from the bota