Habanos & Brandy de Jerez: the perfect pairing
14 March 2017
Every year, during its annual Cuban Cigar Festival, Habanos S.A., the Cuban cigar monopoly, takes up the challenge of pairing the finest cigars with the finest spirits from Cuba and the rest of the world. For this XIX edition of the Festival there was a special guest, the perfect counterpart for the best premium cigars in the world: Brandy de Jerez.
Four Jerez Brandies qualified for this, the most anticipated pairing of the Festival, and two shorter Cuban cigars with different flavour profiles, the Trinidad Vigía and the Partagás Series D No. 4. These could be tasted with the Solera Gran Reserva brandies: Carlos I Imperial from Bodegas Osborne; Cardenal Mendoza Carta Real from Bodegas Sánchez Romate Hnos.; Lepanto from Bodegas González Byass and Fund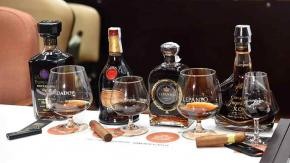 ador Exclusivo from Bodegas Fundador.
Presiding over this tasting were Juan Girón, International Marketing Director for Tabacalera; Ángel García Muñoz, writer, journalist and expert in Havana cigars; Marcelino Piquero, Commercial Director of Bodegas Sánchez Romate Hnos.; Oliverio Montalvo, acting Commercial Vice-President of Habanos S.A.; Ernesto González, Executive of Habanos S.A. and José Marí López Inchaurbe, Strategic Marketing Director of Habanos S.A.
During the tasting, led by moderator Fernando Fernández, National Coordinator of the Cuban "habanosommelier" programme, the participants praised the wonderful affinity between the cigars and the selected brandies, which were the finalists in a preliminary tasting of various Jerez Brandies held in Madrid and at which only these four were chosen, the best exponents of perfect harmony with the Havana Cigars.
You May Also Like
Straight from the bota