Roscón de Reyes to Cardenal Mendoza
22 December 2016
The three kings are on the way so we have to get the roscón prepared! But this year we will cook it differently, with cacao and Cardenal Mendoza brandy.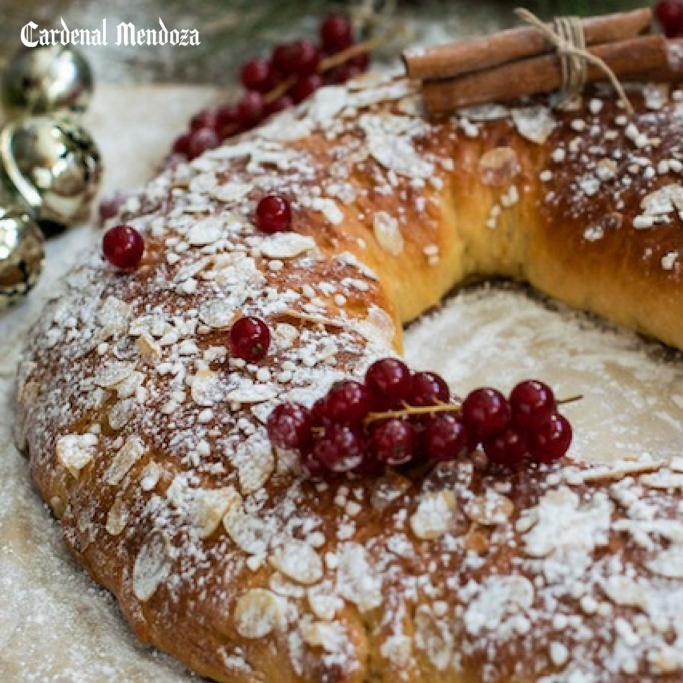 Ingredients :
360 gr. strength flour
2 eggs
85 ml. warm milk
65 gr. sugar
40 ml. Cardenal Mendoza brandy
25 gr. melted butter
25 gr. cocoa powder
20 gr. baker's yeast
1 dash cinnamon powder
For the filling:
To decorate:
Laminated almonds
Sugar glass
Red cranberries
Sticks cinnamon
Elaboration:
Mix the flour with cinnamon  and cocoa powder.
Dilute baker's yeast in warm milk.
Lightly beat eggs with sugar, melted butter, brandy and milk.
Add the mixture of flour, cinnamon and cocoa and knead until you get a homogeneous, soft and elastic dough.
Cover with a cloth and let rest 90 minutes.
Stretch the dough slightly to give it the shape of a ring.
Cover with a cloth and leave to ferment for 1 hour.
To paint the roscón with a little olive oil and to decorate with the frosty fruit.
Bake for 20 minutes at 180ºC.
Allow to cool and cut in half horizontally.
Fill with the custard and cover again with the lid.
Sprinkle over with a little grated white chocolate.
You May Also Like
Straight from the bota