The first-ever Cardenal Mendoza Golden Week attracts new generation of aficionados.
15 December 2016
The first Cardenal Mendoza Golden Week was a one-week event held from 23rd – 30th November 2016 in various cities around the world.
Activities included dedicated tastings, masterclasses seminars, pairing events and cocktail sessions hosted by highly respected mixologists and spirit professionals.
This Spanish Solera Gran Reserva brandy made by Bodegas Sanchez Romate, with its warm, balanced flavour and intense finish, pairs beautifully with cigars, chocolate and other liquors to create innovative and exciting cocktails. The company which produces Cardenal Mendoza, Sanchez Romate, is one of the oldest bodegas in Jerez de la Frontera which is still owned by the same family – it was founded in 1781.  
The prestigious industry journal Drinks International recently voted Cardenal Mendoza one of the top 10 brandies in the world, alongside Cognacs and Armagnacs.
More than 50 privately-organised events took place during the Golden Week - in Russia, USA, China, Spain, Panama, Puerto Rico, Romania, Ukraine, Italy, Colombia, and Germany.
The wide range of countries which participated shows the broad appeal of Cardenal Mendoza, covering a cross-section of tastes and cultures. As proved by activity on Social Media, the brandy is being discovered by a new audience. Unlike other universally popular liquors such as vodka and whisky, brandy is grape-based and aged in sherry barrels, making it a natural step for those curious to explore beyond the world of wine.
Some of the more notable events included vertical tastings – where between three and five Cardenal Mendoza brandies were tasted in order of age - and the world's first-ever event to pair tobacco for smoking pipes with Cardenal Mendoza.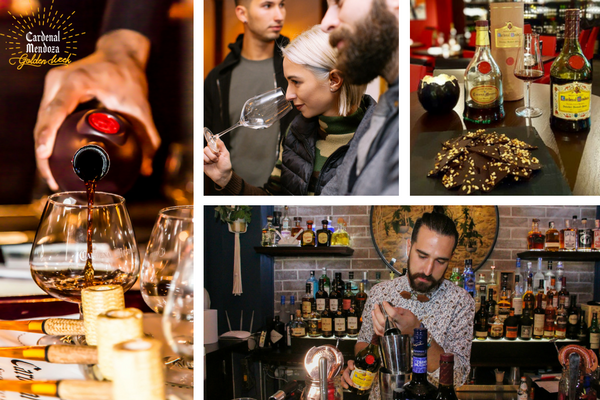 In China, master blender Reyes Gomez personally hosted several events, while in the US, in-store tastings were popular attractions. In addition, Miami saw revered mixology magazine Chilled holding two sold-out events with top mixologists and bartenders as part of the Chilled 100 Roundtable series of masterclasses and cocktail workshops – one of the hosts was Julio Cabrera, hailed by GQ as ¨America's most imaginative bartender".
The Cardenal Mendoza brandy we tasted was exquisite. It had a nice sherry finish which made it very enjoyable. It is very versatile for cocktails and mixed extremely well in the cocktails we tasted. 

JOSUE GONZALEZ, MENIN HOSPITALITY – MIAMI, FL
Throughout Spain, Cardenal Mendoza was celebrated from Jerez, home of the brand, to Bilbao, and Segovia to Barcelona. In Madrid, renowned American producer GL Pease's pipe tobacco was paired with Cardenal Mendoza, Carta Real and NPU, a global first. 
The Golden Week also celebrated the culmination of the three-month Copa Mendoza photo competition where entrants submitted photos which summed up "Arte de Vivir" the art of living, resulting in a variety of photos featuring Cardenal Mendoza with a host of complements: chocolate, coffee, cigars, cocktails and photos encapsulating moments charged with emotion such as romance and friendship.
You May Also Like
Straight from the bota