Cardenal Mendoza, the iconic, award-winning brandy de Jerez, celebrates the 6th Golden Week 25-31 October 2021
19 November 2021
The 6th edition of Cardenal Mendoza Golden Week, held to celebrate the award-winning Solera Gran Reserva Sherry brandy from Sánchez Romate winery, was celebrated with a series of online and in-person events, including cocktail competitions, tasting sessions, and music videos, from 25 to 31 October.
Cardenal Mendoza, the renowned brandy de Jerez, is aged for at least 15 years in the traditional Sherry system of soleras and criaderas. The brandy rests in casks that previously held Oloroso and Pedro Ximenez Sherries, imparting a deep, rich, smooth taste.
Launch of Cardenal Mendoza Nebulis smoked brandy
We launched our new, limited-production smoky brandy, Cardenal Mendoza Nebulis, during Golden Week. Two online tastings were held, one in Spanish with importers from Dominican Republic, Puerto Rico Mexico and national distributors; and another in English with importers from the USA, Germany, Israel, Russia, Italy, Switzerland and the UK.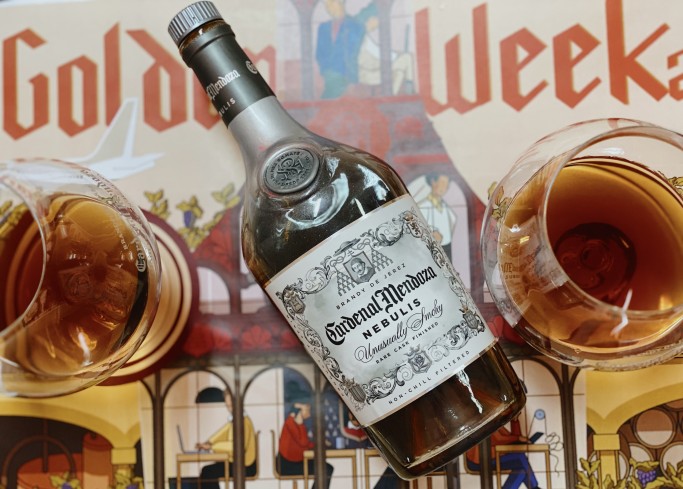 This was the first tasting of this revolutionary new spirit, on its own; on ice, which enhances the smokiness; and finally with Cardenal Mendoza Clásico, to make a comparison between the two brandies. The guests liked the new product, and were confident that this innovative brandy will be well received in their markets.
Cardenal Mendoza Annual Cocktail Competition
As in previous years, Cardenal Mendoza challenged mixologists and bartenders to experiment and get creative with this brandy when making their cocktails. 
This year the theme was to create a new version of a classic cocktail using Cardenal Mendoza. Entrants had to post their entry on Instagram, either a video or photos tagging @cardenalmendozabrandy and using the hashtag #CardenalNewSuit, referring to Cardenal Mendoza classic's newly redesigned label and bottle.
The judges were:
Matthias Soberon (Belgium) - regular judge at international cocktail competitions and founder of Served by Soberon, a renowned cocktail and drinks blog.
Andre Camacho (Germany) - mixologist from the innovative cocktail-catering team of We Love Cocktails, with more than 16 years of experience.
Kike Prado (Spain) - renowned bartender and owner of Bar La Higuera in Barcelona, specialising in cocktails.
The winning cocktail was scored from 1 to 3 for each of the following criteria:
1) Creativity of the cocktail recipe.
2) How original is the recipe and is it replicable?
3) Does the bartender/mixologist respect the brand and flavour profile in the recipe?
4) Presentation of the cocktail (choice of glassware, ice and decoration).
The winner was Snehal DC of San Diego in the US, with his creation 'A Love Letter to Sherry' , an exciting new interpretation of the classic Sidecar cocktail.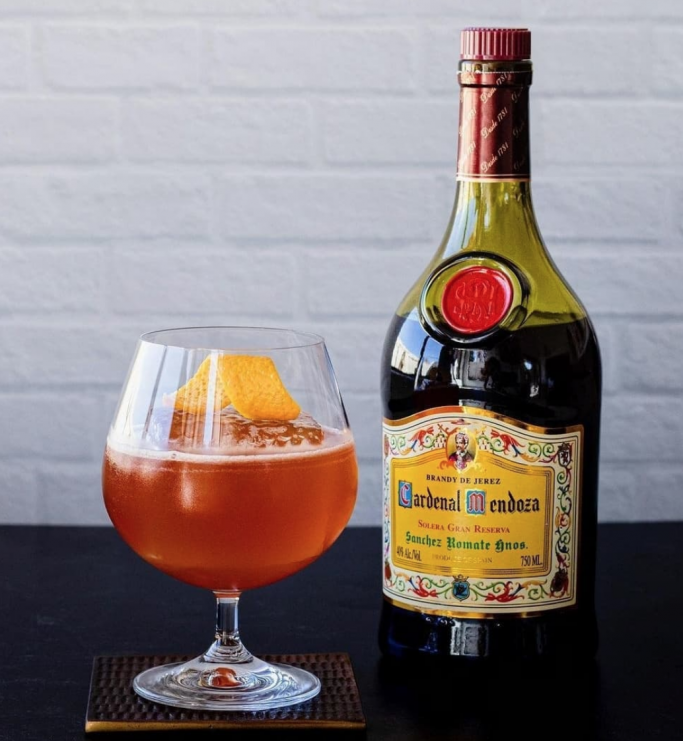 A Love Letter to Sherry

2 oz Cardenal Mendoza brandy
0.5 oz Aperol
0.75 oz lemon juice
0.5 oz Grenadine
Flamed orange peel for garnish

Shake and pour into a brandy snifter glass over an ice cube, and garnish with flamed orange peel.
Cardenal Mendoza Golden Week Music videos
To celebrate this edition of Cardenal Mendoza Golden Week, Sanchez Romate made a series of three videos , in collaboration with the Jerez-born singer Ana Bohéme. 
The first video:
This video takes a musical journey through the winery, from the vineyard to the casks, where Cardenal Mendoza brandy has been made since 1887. In every corner of the winery you can see the efforts made to produce the best brandy experience. We invite you to discover our winery, and to enjoy this beautiful flamenco-acoustic version of Shallow by the singer Ana Bohéme, accompanied by guitar, keyboards and keyboard.
The second video:
Behind every bottle, there is a team that puts a huge effort into producing our brandy. This song, Ana's version of the classic David Bowie song Heroes, is dedicated to each and every one of them who makes Cardenal Mendoza a unique and special product. To all of them, thank you!
The third video: 
Finally, what would life be without friends, family and music? We wanted to celebrate being able to see each other again, to embrace, to dance, to have fun together at last, after such a challenging year – Ana sings the joyous song Volare. A celebration also for the musicians, family, work and of course... good brandy! Cheers! 
Offline activities
In-person activities for Golden Week included 20 tastings in the USA. These took place in department stores and specialised shops with promotions. 
In Puerto Rico, the Perfect Serve competition was held with Cardenal Mendoza taking centre stage.
There was also a Cardenal Mendoza-themed VIP party with 150 key influencers and journalists, focusing on the new Cardenal Mendoza design, with a Halloween touch.
 In Dominican Republic, tasting sets with a bottle of Cardenal Mendoza and a cigar were sent to influencers, so they could try them together, and write about their experience.
Russia had promotions and tastings with end customers in specialised shops, and in Spain tastings were held in department stores and specialised shops with promotions.
The Golden Week poster
This year, the poster of Cardenal Mendoza Golden Week paid tribute to all the workers at Cardenal Mendoza, from the vineyard, foremen, coopers and winery workers, to oenologists, marketing and sales department. Each and every one of them makes Cardenal Mendoza a unique and special product.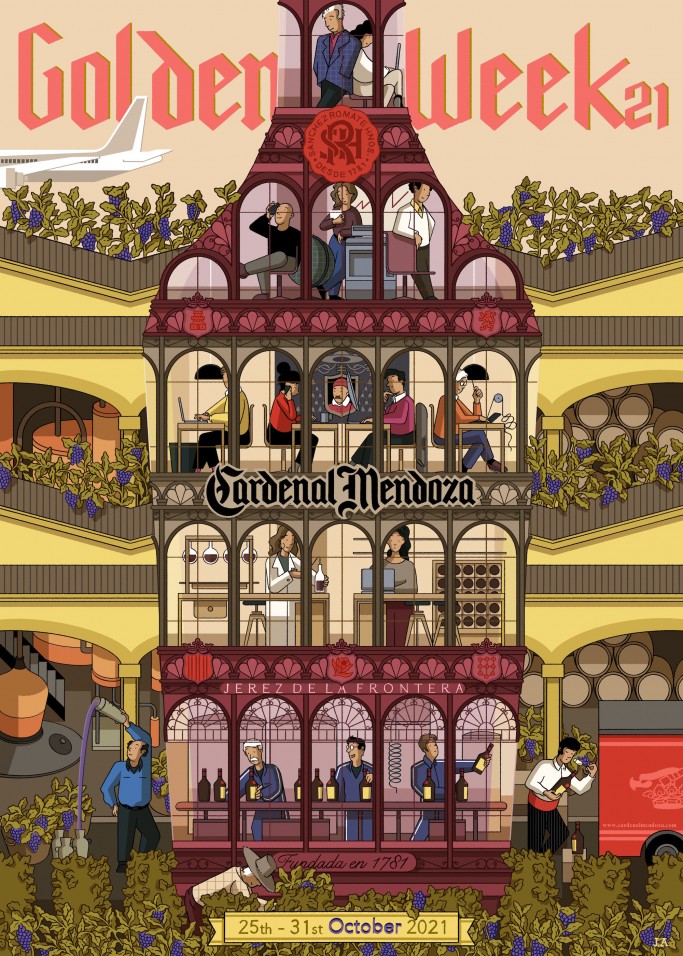 You May Also Like
Straight from the bota