The Barrel Makers of Jerez and brandy - The Unsung Heroes of the Whisky World
02 June 2020
Sol Sanchez de Muniain takes a walk through the Bodegas of Cardenal Mendoza and discovers why Sherry barrels are so important to the ageing of both Brandy de Jerez and Whisky.
There are strange happenings afoot. A whole new side-industry has been created and is booming in Jerez – the traditional home of sherry and brandy. Thousands of barrels are currently being seasoned across Jerez with Oloroso sherry ready to be emptied, and sent to distilleries in Scotland.
Why? Because spirits aged in wooden barrels seasoned with Oloroso acquire a remarkable depth of flavour, which imbues it with richness and a unique taste. The native spirit of Jerez, brandy, has ancient barrels on tap, which explains the incredible aromatic undertones achieved by brandies from Jerez.
I decided to go and see this phenomenon for myself. I visited Bodegas Sánchez Romate in the heart of Jerez, one of the only bodegas to still have a working 'toneleria' (barrel-making facility). 
I met with capataz de bodega (Cellarmaster) José Luís García Infante and tonelero (barrel-maker, or cooper) Alfonso Rosado González. They explained the process of maintaining their ancient barrels used to age their stunning brand of brandy, Cardenal Mendoza, and the buying-in of new barrels, which they season and send out to the whisky industry.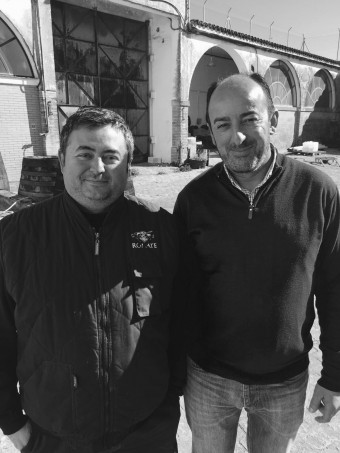 'We only use American Oak to make our barrels', states tonelero Alfonso. 'It is the best type of wood due to its density, hardness and durability. French oak, for example, is totally different... it splits and leaks'. They don't make their barrels from scratch anymore – they tend to buy them in from mechanised barrel-making facilities, where they can churn out 100 in a day, as opposed to just one the old fashioned way.
This age-old practice is practically extinct. However, the barrels in the bodega are such a valuable commodity, they run a detailed inspection of every barrel once a week, and are continually repariring damaged ones, for which they use the tools that have been in use for centuries. Amazingly, the vast majority of the barrels in the Sánchez Romate bodega are over 80 years old.
While he is doing the rounds of the barrels, Alfonso also checks for woodworm – which generally stays away due to the black coat of charcoal and vinegar that they apply to every barrel (this traditional technique is called 'capa rosa').
A little-known fact is that this is the reason for the black colour of all barrels in Jerez.
It's not surprising that Alfonso and José Luis care for the barrels with such love and care. A single empty, unseasoned new barrel currently costs around €633.
Just imagine what this price ascends to once it has been filled, seasoned and transported.
So why is the whisky industry willing to pay such high prices to acquire seasoned oloroso barrels? It's the unique depth of flavour infused into the barrels, and subsequently into the whisky. José Luis tells me that there are currently in the region of 60,000 barrels being seasoned in Jerez for the whisky industry – these barrels will be drained, and transported to distilleries in Scotland. Amazingly, once the whisky is aged in the sherry barrels for between 2 and 5 years, the barrel's seasoning lifespan has finished.
But What Happens To The Most Valuable Barrels of All?
The Cardenal Mendoza brandy is aged in Pedro Ximénez barrels – which is what gives it a hint of sweetness. When asked the price of the ancient barrels they use to season the Cardenal Mendoza brandy, their answer is 'priceless'. The two cannot be compared, because the barrels used to make their own Pedro Ximénez sherry have lain in the bodega for years and years, and many of them have held VORS sherry ('Vinum Optimum Rare Signatum' also referred as 'Very Old Rare Sherry'... more than 30 years old).
José Luis also explains that a new barrel which has been properly seasoned with Oloroso needs to have one centimetre of penetration by the sherry. Unless it has reached that depth within the wood, it is not properly seasoned. The minimum period of seasoning is somewhere between one year and two – and the Consejo Regulador de Jerez has made it mandatory to season for a minimum of one year, to ensure high standards are maintained.
Some of the barrels that are used to age Cardenal Mendoza brandy have held Pedro Ximénez sherry for 70 or 80 years. José Luís states: 'People just don't realise the fantastic complexity these brandies have – having been aged in wooden barrels that have contained such high-quality Pedro Ximénez sherry for so long, they acquire incredible tertiary flavours and smoothness'.
Couple with that the history of the product, and the traditions of the manufacturing process, and you have a rich pedigree of a drink. When you sip a Spanish brandy from one of the sherry bodegas of Jerez, you are drinking pure history, and the flavours and aromas are complex due to the ancient artisan aging process.
When asked what their drink of choice is, Alfonso and José Luis look at each other conspiratorially, and José Luis states: 'water', before they both burst into schoolboy laughter.
Written by: Sol Sanchez de Muniain 
You May Also Like
Straight from the bota